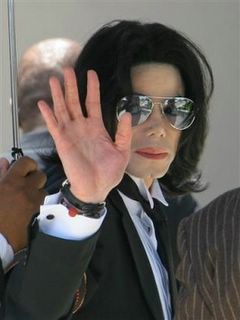 From the New York Times (the bold and italics are
mine
!)...
Michael Jackson Is Acquitted on All Counts in Molestation Case

By JOHN M. BRODER
Published: June 13, 2005
SANTA MARIA, Calif., June 13 - Michael Jackson was acquitted today of all charges in connection with accusations that he molested a 13-year-old boy he had befriended as the youth was recovering from cancer in 2003.
I guess Columbo really is fiction. Anne Baxter, Janet Leigh, and other rich celebrities would never be convicted on Earth Prime, the way they are on Earth Columbo.
Hey, two equally obscure references from two completely different mediums! And yet my stand up never caught on...