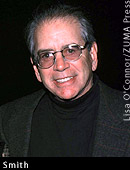 Of course when this guy said Perry White's line on "Lois And Clark: The New Adventures Of Superman" it was "Great Shades Of Elvis!". One of the great current character actors, who you can see not only in the credits listed below, but also in Paul Schrader's mid-seventies union drama "Blue Collar", Lane Smith passed away.
From Playbill-
Lane Smith, of Broadway's Original Glengarry Glen Ross, Dead at 69
By Kenneth Jones
16 Jun 2005


Lane Smith, the character actor who played James Lingk in the 1984 Broadway production of Glengarry Glen Ross, and would later play editor Perry White in a "Superman" TV series, died June 13 in Los Angeles of complications from ALS (Lou Gehrig's disease), Variety reported.

He was 69 and was also known for playing Richard M. Nixon in the 1989 docudrama "The Final Days." He was nominated for a Golden Globe Award for the work, based on a book by Bob Woodward and Carl Bernstein.

Mr. Smith also appeared on Broadway in Dennis Reardon's 1975 play The Leaf People, produced by the New York Shakespeare Festival.

His most visible role was playing gruff but lovable Perry White, editor of The Daily Planet, on ABC's "Lois and Clark: The New Adventures of Superman" (1993-97).

On screen, Mr. Smith played a hockey coach in "The Mighty Ducks," and was a lawyer in "My Cousin Vinny," among many credits for films and TV.

The Memphis native studied theatre in Pittsburgh at the precursor to Carnegie Mellon University and moved to New York to study at the Actors Studio after a stint in the Army.

Off-Broadway, he played McMurphy in One Flew Over the Cuckoo's Nest. For his work in Glengarry Glen Ross on Broadway in 1984, he earned a Drama Desk Award.

According to Variety, he is survived by his wife Debbie, a son and a stepson.
As I said before, not a good summer for cool character actors.